We will help you plan your move properly, making your relocation in Charlotte, North Carolina, exciting, rewarding, and stress-free. Our process is designed to treat every move individually and to properly assess the requirements before the moving process begins. When your possessions need to be moved, you need 485 Movers! Moving services we offer include:
Local Movers in Charlotte, NC
---
It's 485 Movers for a reason! We are proud to employ some of the most knowledgeable and experienced movers in the Charlotte area. We realize the importance of creating lasting relationships with our community so we make sure to provide reliable and easy moving experience. 485 Movers Inc doesn't just offer moving services. We also help with packing, home relocation, family and home planning, heavy item moving, and variety of other services tailored to each customer's unique circumstances. By helping homeowners each step of the way, we ensure a smooth and pleasant moving experience. No matter how complex your move may seem, leave it to 485 Movers to make it a breeze!
Our main focus is to provide expert and fast moving service. We insist on 100% customer satisfaction, and our caring and knowledgeable customer service representatives will be in touch every step of the way. Whether it's fragile belongings, electronics or bulky furniture, nothing is too much of a challenge for our professional crews. We make sure your possessions get to their intended destination without any damage, exactly as you want them. To avoid any unpleasant surprises during your residential or commercial relocation in Charlotte, North Carolina, you can count on our moving help. Our friendly crew will pack and load the boxes, while you enjoy your relocating experience.
If you need moving help in Charlotte, NC, look no further. We take the time to listen to our customers to fully understand their needs. We then form a plan of action to make your move as hassle-free as possible. When you're looking for a moving company that will give you choices tailored to your specific circumstances and make your moving experience a pleasant one, you can trust our experts. Each and every one of our movers is trained and highly experienced.
Although we are local movers, we have expanded into long distance moving services and have provided excellent relocation experience to customers all over the country. Contact us for a custom quote for a long distance move, and we promise it will be the best moving experience you have ever had.
Through the years of working with hundreds of happy clients we have earned a reputation of some of the most caring, fast and cheap movers in Charlotte, NC. We are licensed and insured and offer low hourly and flat rates that will beat any competitor rate. We also have 17′ and 24′ moving trucks available for full-service moves for an additional fee, rates include use of all moving equipment.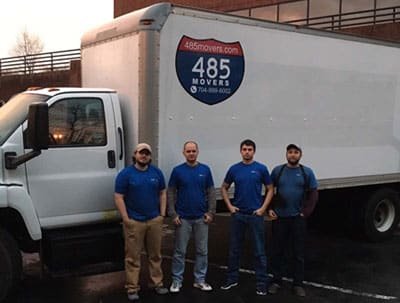 Mission & Vision
We are here to make your move as easy as possible, providing professional movers with outstanding quality to ensure the protection of your personal belongings. Satisfied customers, high quality but cheap moving rates is our philosophy. We take pride in our work and do it to the best of our ability. No job is too small or too big.
Whether you are planning a long distance or a local move in Charlotte, NC, hire us for a fast, honest and reliable moving service. Save your money and time by choosing 485 Movers Inc. We guarantee easy moving! Please call today for your free, no-obligation estimate.