We will help you plan your move properly, making your relocation in Charlotte, North Carolina, exciting, rewarding, and stress-free. Our process is designed to treat every move individually and to properly assess the requirements before the moving process begins. When your possessions need to be moved, you need 485 Movers! Moving services we offer include:
Affordable Charlotte Moving Company
---
As reliable and easy movers in Charlotte NC, we realize the tremendous opportunity to make long-lasting relationships with our customers. 485 Movers Inc offer not just moving services but also packing, home relocation services, family and home planning assistance for your next move. We have an overall strategy to make household moving less stressful for the entire family. By assisting homeowners with every part of the moving process, we make their transitions to new homes more pleasant than they ever thought possible. However complex your requirements, our highly trained crew can cover them!
Our aim is to provide fast and expert moving services. Complete customer satisfaction is what we insist on. Whether it's fragile belongings, electronics or bulky furniture, nothing scares our expert movers. We make sure your possessions get to their intended destination without any damage, exactly as you want them. To avoid any unpleasant surprises during your residential or commercial relocation in Charlotte, North Carolina, you can count on our moving help. Our friendly crew will pack and load the boxes, while you enjoy your relocating experience.
We take the time to listen to our customers to fully understand their needs; then, we form a plan of action to make your move as hassle-free as possible. When you're looking for a moving company that will give you choices and makes your moving experience a pleasant one, you can trust our experts. All our movers have gone through our training program and are highly experienced.
We can load, unload, and provide a full packing service if needed. We are licensed and insured and offer low, low hourly and flat rates that you will love. We also have a 17′ and 24′ moving trucks available for full-service moves for an additional fee, rates include use of all moving equipment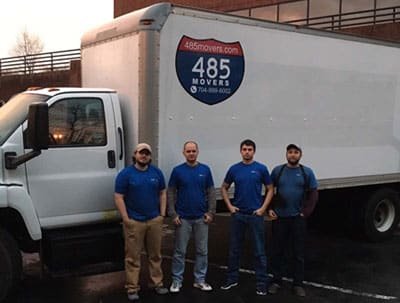 Mission & Vision
We are here to make your move as easy as possible, providing professional movers with outstanding quality to ensure the protection of your personal belongings. Satisfied customers, high quality but cheap moving rates is our philosophy. We take pride in our work and do it to the best of our ability. No job is too small or too big.
Whether you are planning a long distance or a local move in Charlotte, NC, hire us for a fast, honest and reliable moving service. Save your money and time by choosing 485 Movers Inc. We guarantee easy moving! Please call today for your free, no-obligation estimate.