485 Movers Charlotte - Your Trusted Partner for Stress-Free Moves
Welcome to 485 Movers Charlotte, your premier destination for stress-free and seamless moving services. With years of experience in the industry, we take pride in being the go-to moving company for countless satisfied customers. Our dedicated team of professional movers is committed to providing top-notch service tailored to meet your unique moving needs. Whether you are planning a local, long-distance, or commercial move, we have the expertise and resources to make it a smooth and successful journey.
Why Choose 485 Movers Charlotte for Your Move?
Professional Expertise: At 485 Movers Charlotte, we understand that moving can be a challenging experience. That's why we've assembled a team of highly skilled and experienced movers who know the ins and outs of the moving process. From carefully packing your belongings to safely loading and transporting them, our movers handle every step with precision and care.
Comprehensive Services: As a full-service moving company, we offer a comprehensive range of moving services to cater to both residential and commercial clients. Whether you need a simple household move, a complex office relocation, or specialized items like pianos and antiques moved, our team has the expertise and equipment to handle it all.
Stress-Free Experience: Moving can be overwhelming, but with 485 Movers Charlotte, you can leave your worries behind. Our goal is to provide you with an stress-free moving experience, allowing you to focus on starting your new chapter with ease and excitement.
Modern Equipment: We believe in investing in the best tools and equipment to ensure the safe and secure transportation of your belongings. Our fleet of well-maintained moving trucks, along with state-of-the-art moving equipment, is designed to protect your valuables during the entire moving process.
Transparent Pricing: We value transparency and honesty. Our pricing is upfront and competitive, with no hidden fees. You can trust us to provide you with an accurate and detailed moving quote, so you know exactly what to expect.
Excellent Customer Reviews: The satisfaction of our customers is our top priority, and our long list of positive customer reviews reflects our commitment to exceptional service. Check out our glowing testimonials to see why our clients trust us with their most valuable possessions.
Tailored Moving Solutions for Your Needs
At 485 Movers Charlotte, we understand that every move is unique, and no two customers have the same requirements. That's why we take a personalized approach to each move. Our dedicated team will work closely with you to create a customized moving plan that fits your schedule, budget, and specific needs.
Local and Long-Distance Moves Made Easy
Whether you are moving within the same city or across the country, 485 Movers Charlotte has the expertise and resources to handle it all. Our efficient moving process ensures a timely and reliable delivery, no matter the distance.
Residential Moving Services
Moving to a new home is an exciting milestone, but it can also be overwhelming. Our residential moving services are designed to make your transition smooth and stress-free. Our professional movers will take care of every detail, from packing your belongings to unloading them at your new residence. You can trust us to handle your cherished possessions with the utmost care and respect.
Commercial Moving Services
Relocating a business requires precision and efficiency to minimize downtime and disruptions. Our commercial moving services are tailored to meet the unique needs of businesses of all sizes. Whether you are moving an office, retail store, or warehouse, we have the expertise and resources to ensure a seamless transition.
Packing Services
Proper packing is essential to ensure the safety of your belongings during the move. If you prefer to leave the packing to the professionals, our packing services are the perfect solution. Our experienced movers will pack your items securely using high-quality packing materials, ensuring they arrive at your new location intact.
Specialized Moving Services
At 485 Movers Charlotte, we understand that some items require special care and attention during the moving process. That's why we offer specialized moving services for delicate and valuable items, such as pianos, antiques, artwork, and sensitive electronics. You can trust us to handle your most prized possessions with the utmost care and expertise.
Storage Solutions
If you need a safe and secure place to store your belongings before or after your move, we offer convenient and reliable storage solutions. Our storage facilities are equipped with advanced security systems, ensuring your items are protected until you are ready for them.
Our Commitment to Customer Satisfaction
At 485 Movers Charlotte, our commitment to customer satisfaction is unwavering. We believe in going above and beyond to exceed our customers' expectations. Our friendly and professional team is always ready to answer your questions, address your concerns, and provide you with the support you need throughout the moving process.
The 485 Movers Charlotte Experience
Initial Consultation: We begin the moving process with an initial consultation to understand your specific needs and requirements. Our moving specialists will assess the scope of your move and provide you with a detailed moving plan.
Professional Packing: Our trained movers will handle the packing of your belongings using high-quality packing materials. They will ensure that each item is properly secured and labeled for easy identification.
Secure Transportation: Your belongings will be transported in our well-maintained and secure moving trucks. Our drivers are experienced in handling various road conditions to ensure a safe journey.
Unloading and Placement: Upon arrival at your new location, our team will carefully unload and place your belongings in the designated areas. We'll also assemble any furniture that was disassembled during the packing process.
Post-Move Support: Our dedication to customer satisfaction extends beyond the move itself. We follow up with you to ensure that everything went smoothly and address any post-move questions or concerns.
The 485 Movers Charlotte Difference
Licensed and Insured: 485 Movers Charlotte is a licensed and insured moving company, providing you with peace of mind knowing that your move is protected.
Experienced Movers: Our team of movers has years of experience in the industry, ensuring that your belongings are handled with care and expertise.
Safety First: We prioritize safety at every stage of the moving process. Our movers are trained in proper lifting techniques and follow safety protocols to prevent any accidents or damages.
Customer-Centric Approach: As a customer-centric moving company, we focus on your needs and preferences to ensure a personalized and satisfactory moving experience.
Environmental Responsibility: We are committed to eco-friendly practices, including recycling packing materials and reducing our carbon footprint.
Request a Free Moving Quote Today
Are you ready to experience a stress-free and seamless moving journey? Contact 485 Movers Charlotte today to request a free moving quote. Our team will be delighted to assist you, answer your questions, and create a personalized moving plan that fits your needs and budget.
Phone: (704) 999 - 6002
Email: [email protected]
Website: 485movers.com
Location: 9025 Arrington Manor Pl, Charlotte, NC 28277
At 485 Movers Charlotte, we treat your belongings with the same care as if they were our own. Let us make your moving journey a smooth and memorable one. Get in touch with us today!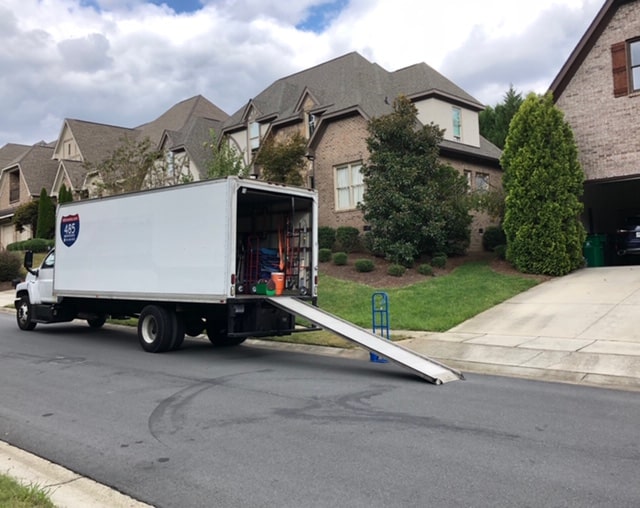 Read our helpful blog for moving tips.