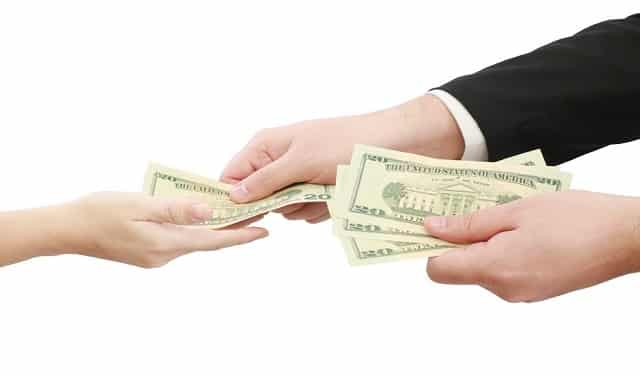 Although this varies from culture to culture, if you are moving within the United States tipping for a service is a cultural standard. Just like you would leave a gratuity after dinner or a haircut, tipping for a well done move is expected. However, the guidelines for tipping are different depending on which service was performed, and since moving is a less common occurrence than going out to eat, it can be hard to gauge the amounts. Refer to the guide below for the tipping etiquette as it pertains to a moving service.
Why tip movers
Compared to other services such as waiting tables or giving a massage, moving is arguably the most labor intensive of them all. Even when done by properly equipped, professional movers, moving heavy furniture for many hours a day takes a toll on one's body and health.
Tipping is a gesture that shows appreciation and lets the movers know they did well and you are satisfied with their performance. Just like any other job, doing well is rewarding in more than just the financial sense.
Movers are typically paid on a job-by-job basis. During the slow season extra cash can help these hardworking people stay afloat. Not to mention the time movers spend traveling between jobs is typically not paid, but can take a few hours each day.
How much should you tip movers
If you are highly satisfied with the mover's performance, using a percentage system like you would in a restaurant is a fair way to figure out the tip. This however can be hefty for larger jobs, in which case a simple straight forward system can be used.
$20 per mover is sufficient for a small and simple move where you did most of the packing and preparing yourself. $30-50 per mover will be appropriate for more complex jobs where packing, heavy items, or long carrying distances are a factor.
Pro tip. If you plan on tipping a specific amount, $30 per mover for example, offer half of the tip up front. This will motivate the guys before the move begins, and may save you some money in the long run, especially if the total is calculated on an hourly basis.
Criteria for tipping
Quality of work. The obvious criteria for tipping is job performance. The movers were careful with your stuff and nothing was damaged, worked safely but at a good pace and the final result is as expected or better. These are indications of a job well done and earns a tip in most cases.
Specific requests. If your unique requests were catered to, the movers showed care for your individual circumstance. No move is created equal, and movers who can recognize and work with your specific situation are high quality workers.
Politeness. This may be considered less important given the movers' job is not to conversate but to move your stuff, but being generally polite and courteous is always a plus.
Other gestures of appreciation
There are a few other ways you can show appreciation for the people who came to help with your labor intensive service.
Movers always appreciate water, gatorade or other soft drinks.
Food is of course optional but an inexpensive meal such as a pizza can go a long way with these guys. This will not only be seen as a gesture of appreciation but may also shorten the time the movers will need to take as a break.
A genuine "thank you" goes a long way as well.
If you are especially impressed with specific individuals, remember their names and leave a positive review online.
Generally speaking, although tipping is not required, it is greatly appreciated. An amount that may seem trivial to you can make someone's day and you will always be remembered as a generous and kind person.